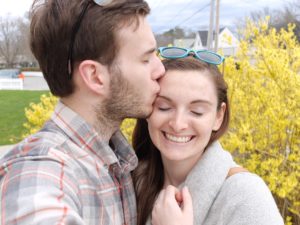 I've completely killed my old site(s) and started FRESH! So my homepage is inspired by Derek Sivers 'Now' page, to keep things really simple and impactful! 
Currently, I'm working behind the scenes on a ton of awesome classes and other materials but in the meantime, a bunch of my current classes can be found for FREE on Skillshare, with my latest class being about (non-scammy) Passive Income.
A little about me until I recreate my about page — I live in Maine (#vacationland!!) with my pup & hubs, we're currently building a custom tiny house in our adorable little college town. (It reminds me so much of Stars Hollow!) God willing, it will be done by summer! Yay!!
My purpose here, and in life, is to help you find & live God's purpose for your life! I know how tough it is to not know your purpose or even worse yet, to know it but not how to live it fully, and it's my calling/purpose to teach things that help you with that! So keep checking back over the next few months for workshops, classes, books, workbooks and more on topics ranging from finding your purpose to turning it into a profitable business, to simple & intentional living, and more! (Maybe even the dreaded "b" word…budgeting! haha!)
with love & blessings,
Ash
~last updated March 22nd